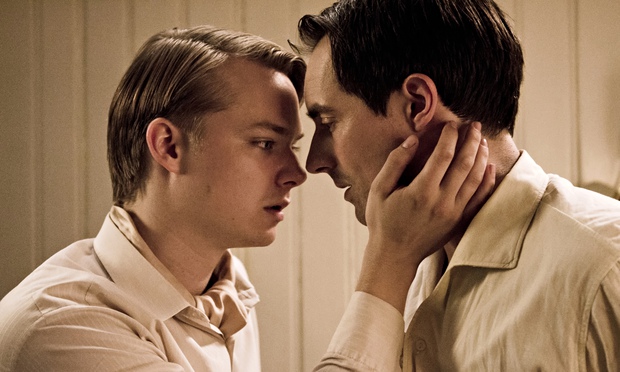 The director Stefan Haupt was born in Zürich. "I always thought I knew the history of my city quite well," he says. "But it turns out I didn't know this story at all. It isn't really known in Switzerland." This story is about an early gay-rights group called the Circle, which is also the title of Haupt's new film – one of a growing number of features putting stories from the LGBTQ archives up on the big screen. The Circle (or Der Kreis in German) was one of the world's first organisations dedicated to lesbian and gay rights. Originating in 1932, it aimed to offer reassurance, support and education to homosexuals – first through its magazine, then through a social club – as well as gently lobbying for reform. Unusually for a European country, Switzerland did not outlaw homosexuality, and its neutrality ensured that the Circle, unlike other European gay groups, survived the war. By 1956, when Haupt's film begins, it had around 2,000 subscribers, and an international membership of about 700, making it the biggest organisation of its kind worldwide.
The film introduces us to the world of the Circle through the character of Ernst Ostertag (Matthias Hungerbühler), a middle-class trainee teacher, who attends one of the group's legendary costume balls. There, he meets teenage drag queen Röbi Rapp (Sven Schelker). As the pair begin a tentative romance, Ernst grows more politically active; meanwhile, a murder draws attention to gay subculture in general and the Circle in particular, sparking a reactionary social, media and police backlash.
The film evocatively recreates this true story through the conventional trappings of period drama, such as judicious production design and appropriate music. But it adds an extra dimension by intercutting these scenes with documentary material, most notably – spoiler alert! – interviews with Ernst and Röbi, who remain happily partnered to this day. It was a strategy spurred by financial necessity – the film's producers couldn't secure funding to complete an entirely dramatic feature as planned – but the resulting hybrid is a powerful document of a neglected period of gay history with much to tell us about today.
In some ways, it is not surprising that the story of the Circle is unfamiliar. "At that time, most of the members were happy if it was not well known," Haupt says. Even if homosexuality was technically legal in Switzerland, "they had to be undercover. They had to be discreet. Then they were in the newspapers but hated it, then time went on and the flower power generation came and it got forgotten. Later, being gay became a huge subject with Aids – but that was the subject, not looking back in history. Then registered partnerships and being accepted into society was a big question. Now I get the feeling many younger gay people in Zürich really love to party but not think about the past so much."
Films such as The Circle redress that sense of collective amnesia. There has recently been something of a backward turn in LGBTQ film-making – a surge of interest in stories about the past, realised through period dramas, documentaries about queer subjects, or on-screen depiction of older LGBTQ people. (The Circle combines all three approaches.) As Haupt suggests, gay art and activism have often focused on crisis management and the pursuit of legal equality. Those battles aren't over, but significant progress has been made, and now there also seems to be room to take a breath and look back.