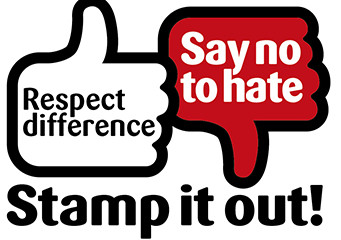 A campaign to encourage victims of 'hate crime' to report offences begins this week – 16-20 March 2015. Leicestershire Police and councils across Leicester City, Leicestershire and Rutland are supporting the week-long effort to urge people to make a stand against those who abuse them.
Hate crimes, which can include physical, written or verbal abuse, are categorised as offences which target people because of characteristics such as age, disability, gender, race, religion, belief or sexual orientation.
Joe Orson, Leicestershire County Council's cabinet member for safer communities, said: "Hate incidents and crimes can be damaging to individuals and their families and it is important to remember we all have a right to be treated with dignity and respect and to live without fear of hatred."
"We are pleased to be working with partners to raise awareness of what hate crime is, let people know support is available and encourage people to let us know when it happens."
Detective Superintendent Jon Brown, of Leicestershire Police serious crime team, said: "We know that hate incidents and hate crimes don't just impact on the victim but impact on family, friends and the wider community.
"While we have made some progress in tackling hate, there is still a great deal of work to be done.
"By working in partnership with county, district and borough council colleagues we will send a very clear message that there is no place for hate crime in Leicestershire.
"Leicestershire Police take all hate incidents and hate crimes seriously."
"I would encourage anyone who has been a victim or has witnessed a hate incident or hate crime to report it.
"You can report it to Leicestershire Police, the council or via a third party reporting centre."
Information about hate crime will be on show at libraries, local councils and a number of community and school events throughout the week.
To report a hate incident call Leicestershire Police on 101 or the county council on 0116 305 8263 or visit
Alternatively visit your local council office or library, which are reporting centres for hate incidents.
In an emergency, always contact the police on 999.
Leicester LGBT Centre is one of the reporting centres for all hate crime, not just sexual orientation and gender identity.
For more information go to the council's website or Stamp It Out website.